WeVerify
E&B Verification for Optometry Practices
Confirm patient benefits before their visit with our Eligibility and Benefits Verification Service
Many eye care practices dabble in eligibility and benefits verification, but the process is often incomplete. In a hard-to-hire environment and with busy staff, patient benefits verification may not even get done.
WeVerify is a service that provides comprehensive eligibility and benefits verification for optometry practices—two days before a patient visit. And it covers both Medical and Vision payers.
Eligibility and benefits verification is advantageous to both patients and practices. Practices can collect the proper amount due at the time of service so there are no billing surprises down the road. When the bill arrives, everything matches the patient's expectations. That only enhances the patient experience.
Verification also provides the practice with information about unknown patient's benefits, like a vision rider inside of a medical benefit or a vision plan that a patient may not have been aware of.
This complete picture will strengthen your relationship with each patient—and generate new revenue opportunities for your practice.
---
WeVerify's comprehensive eligibility and benefits verification for optometry practices:
• Covers both Medical and Vision Payers;
• Gathers the necessary insurance benefit data for each patient two days prior to the office visit;
• Delivers detailed benefits information that is visible to you and your staff inside your PMS;
• Includes the verification of patient eligibility, deductibles, co-pays, and co-insurance;
• Provides your staff with a clear picture of unused benefits;
• Identifies benefits and plans unknown to the patient, such as vision riders, inside their other insurance plan; and
• Provides data for coordination of benefits.
E&B Verification to Help Grow Your Practice
Sign up for a demo of WeVerify. See how it works with your EHR/PMS.
Would you like to know the insurance benefits of your patients before their visit? Watch our short demo on how our eligibility and benefits service called WeVerify integrates with your EHR/PMS.
Learn More about Our Eligibility & Benefits Verification for Optometrists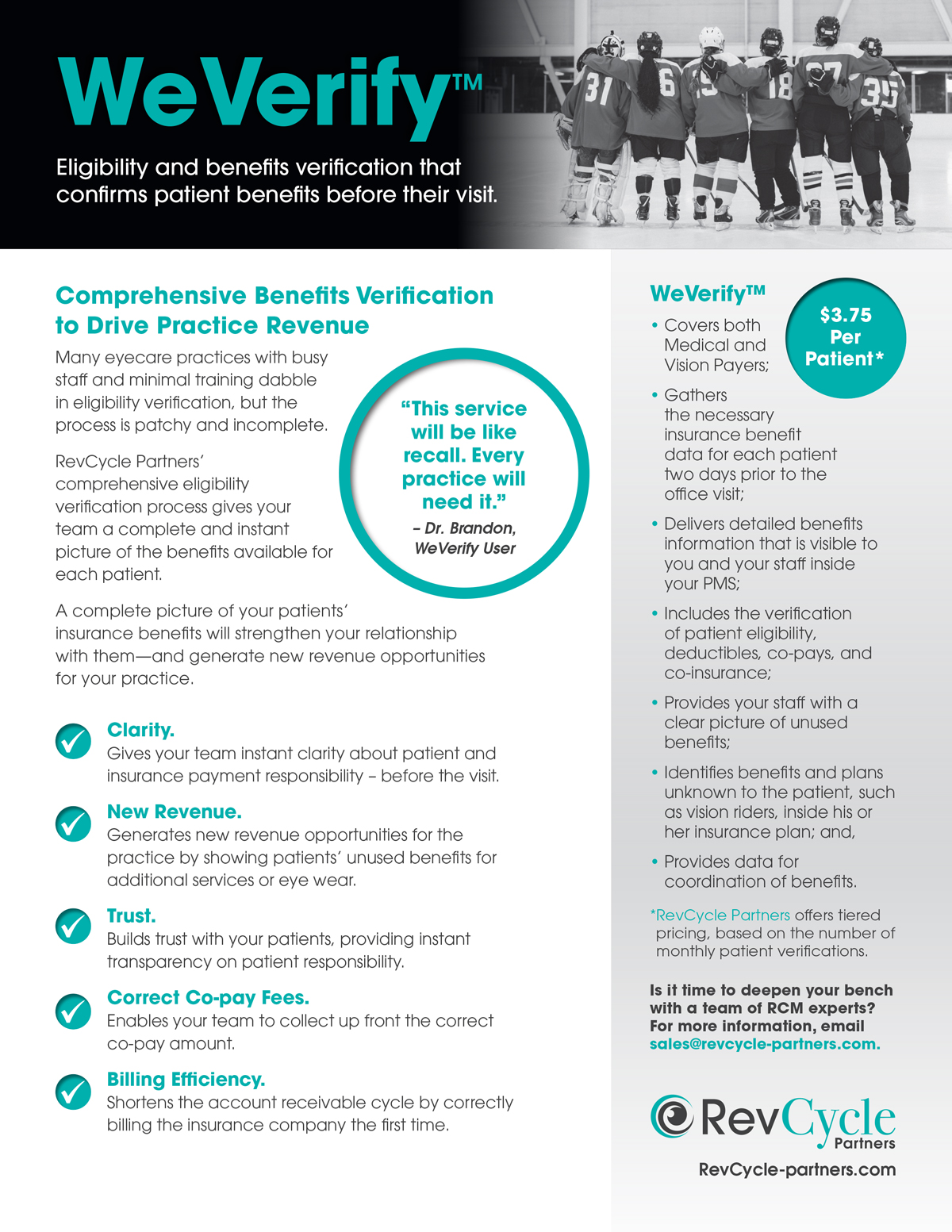 Confirm Patient Benefits Many eyecare practices with busy staff and minimal training dabble in eligibility verification, but the process is patchy and incomplete. RevCycle Partners' ...

Eligibility and Benefits Verification for Optometry
RevCycle Partners provides eligibility and benefits verification for optometry.
Do you need a clear picture of your patients' eligibility and benefits before their visit so you can better serve your patient and minimize billing headaches?