Insurance Billing
Insurance Billing for Optometrists
How to deepen your bench through outsourcing your RCM
How to Deepen Your Bench Through Outsourcing Your Insurance Billing
Does it seem that just when your practice is humming along smoothly you get a staff resignation? Is it difficult to retain insurance billing talent in a hard-to-hire environment? Are you growing faster than you can staff?
There are numerous reasons why you might consider outsourcing your insurance billing.
And you know that who you add to your practice's billing team makes a significant difference in the financial health of your practice.
You need a deep bench. You need a team singularly focused on insurance billing.
Our large team of US-based eyecare insurance billers are ready to strengthen your team. They are at the top of their game, providing support to hundreds of optometry practices nationwide. Each biller brings with them years of eyecare billing experience plus grit and determination to get claims paid.
All this translates to relief. Relief that comes from receivables being collected on time. Relief that comes from no longer having to hire and train new employees. Relief that comes from better cash flow. Relief that comes from practice efficiency.
We support all major optometry PMS/EHR software and clearinghouses, so we are ready to become part of your team today.
Outsource your insurance billing tasks to RevCycle Partners. Experience the confidence of a deep bench. With our insurance billing service, we do what's right for you. So you can do what's right for the patient: provide exceptional patient care.
Catch Up on Your Aging Claims
Receive a complimentary assessment of your accounts receivable.
Now is the time to clean up your books. Sign up for RevCycle Partners' complimentary AR assessment.
Learn More about Our Insurance Billing for Optometrists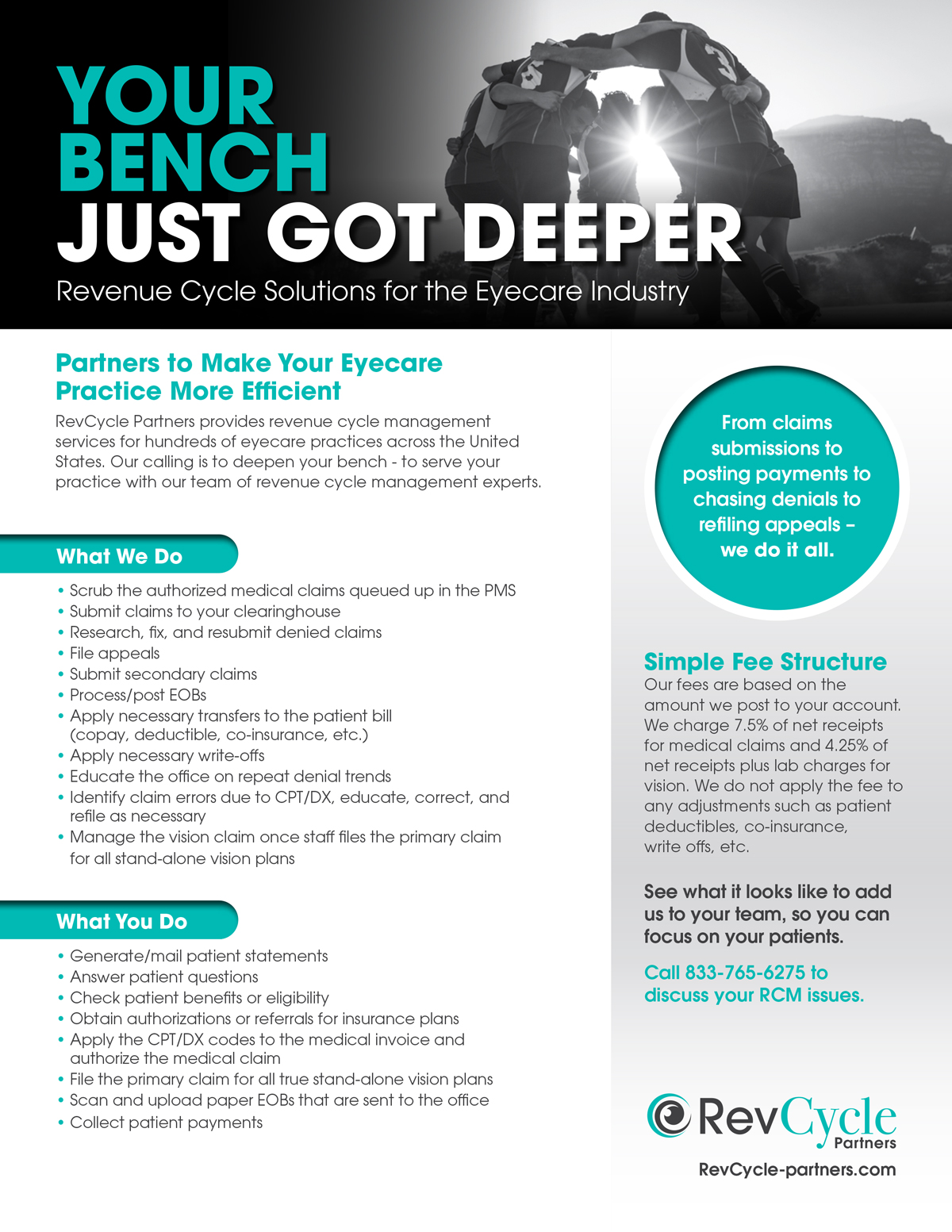 Revenue Cycle Solutions for the Eyecare Industry RevCycle Partners provides revenue cycle management services for hundreds of eye care practices across the United States. Our ...

3 reasons to outsource your billing and credentialing to RevCycle Partners. Are you tired of chasing claims over and over? Do you feel like you ...

Does it make financial sense to outsource your insurance billing? The math seems simple enough. You get a quote for outsourcing your insurance billing. You ...

Insurance Billing for Optometrists
RevCycle Partners provides insurance billing for optometrists.
Ready to experience the relief that comes from fewer hiring headaches, better cash flow and receivables that are collected on time?